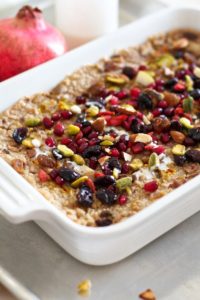 Ingredientes
3 cups Rice or Almond Milk (or any milk you prefer)
3 cups light unsweetened Coconut Milk
2-3 pinches of Saffron strands – use more for a stronger flavor and yellow colour
2 cups Coach's Oats
1 teaspoon Baking Powder
1/2 teaspoon fine Sea Salt
1/2 teaspoon ground Cinnamon
1 cup diced Pear (I like Bartlett and D'Anjou)
1/4 cup Raisins
1/4 cup Nuts, chopped
1 tsp of  Vanilla, adjust to taste
Cooking Spray
Optional Toppings
Raisins
Goji Berries
Coconut Milk Coconut Flake
Pomegranate Seeds
Dried Blueberries
Greek Yogurt
Method
Pre heat oven to 350 degrees F with the rack in the middle. In a medium sized bowl mix together milk choice and coconut milk. Stir in saffron until you see some yellow. In another bowl whisk together oats, baking powder, salt and cinnamon. Combine the wet and dry, stir well and fold in the raisins, nuts and pear. Add stevia or natural sweetener to taste.
Spray two 10.5 X 7 inch oven safe baking dishes with cooking spray. Or use one larger baking dish. Evenly distribute oatmeal in baking dishes. Bake for about 45 minutes. Remove from oven and top with dried fruits, nuts, berries, etc. Slice to serve and top with cream, a splash of milk or yogurt, fresh and dried fruit, nuts, etc.
Notes: I love the nuttiness and the the texture of good Oats .Just follow the directions on the package so you know how much liquid to add. Each oatmeal is different.